Is 'Giving a Baby Up' for Adoption Hard? [Complete Guide]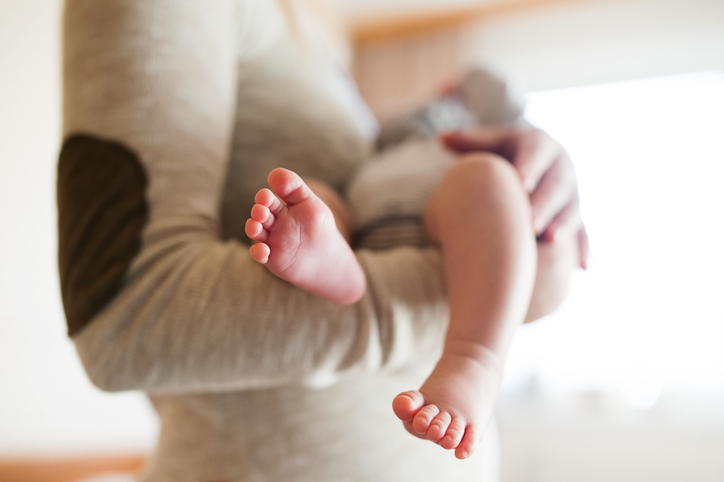 One of the first questions an apprehensive woman experiencing an unplanned pregnancy typically asks: "Is giving a baby up for adoption hard?"
The answer to that question has two parts: Although the process of adoption itself is very simple for a pregnant woman, the emotions she'll experience are harder.
Throughout the process and the emotions you'll face, you will have the support and guidance of your Adoption Answers counselor. So, if you're worrying, "Is it hard to give a baby up for adoption," the following guide will help you to better understand both the process of placing your baby for adoption, as well as the emotions involved.
The Process is Easy
If you're wondering, "How hard is it to put a newborn baby up for adoption?" you'll be relieved to know that the actual process of placing a child for adoption really is easy.
You might be surprised to find that there are only nine steps to the adoption process. While every woman's adoption process is going to be unique, your experience will generally follow these steps:
Out of your three pregnancy options, decide if adoption is right for you.

Contact Adoption Answers at 1-800-659-7541.

Create a plan you feel comfortable with through our guidance, which includes establishing what you're looking for in an adoptive family for your child.

Consider potential adoptive parents and choose the family you feel is right for your baby.

Get to know the adoptive family you've chosen.

Deliver your baby.

Wait at least 48 hours after giving birth, as established by Texas state laws.

Issue your legal consent to the adoption and permanently relinquish your parental rights to your baby's adoptive family. You have the right to change your mind up until this step is complete!

Maintain contact with your child and the adoptive to whatever extent you feel comfortable with.
Doesn't seem quite so intimidating now, right? If you've been worrying, "Is giving your baby up for adoption hard?" you can take a breath knowing that the process of placing your baby for adoption is very simple. But that doesn't ever make adoption easy.
As you ask, "Is it difficult to give up a baby for adoption?" we know that you're going through an incredibly tough time, so we're here to make the steps of this journey as easy as possible.
The Emotions Are Harder
We won't sugar-coat it. If you ask us, "Is it easy to put a child up for adoption?" we'll always tell you that placing a baby for adoption is one of the hardest things that you can do. Here we mean, of course, the emotions of choosing adoption for your child.
Although the process itself is simple, the feelings that you'll encounter before, during and after the adoption process are anything but easy. Most birth mothers do say that adoption was the hardest choice they ever had to make. However, they went on to say that adoption was also the right choice in their situation and was the best thing that they could do for their child given the circumstances.
So, what are some of the emotions that birth mothers feel throughout the adoption process? What can you expect to feel if you decide to place your baby for adoption?
When asked, "Was it hard to give your baby up for adoption?" birth mothers often say that before, during and after placing their child for adoption, they felt:
Loss and sadness because they wouldn't be taking their baby home and parenting him or her

Anger that they weren't able to raise the baby themselves

Shame and guilt about "giving up" or "giving away" their baby – even though adoption isn't "giving up"
However, they also said that they felt:
Peace because they know they did what was best for their child in the given situation

Excitement at the future their baby will have with his or her parents, and at their own future

Relief, knowing that they won't have to struggle to raise their child when they're unable or unwilling at this point

Happiness in being connected with the right adoptive family (and their child) for life

Hope in their future, and hope in their child's future
At Adoption Answers, we know how important it is that you receive the emotional support that you deserve. With time, love and support, you'll be able to process these complex feelings and move forward to a life full of peace, happiness and hope.
Adoption Answers is Here to Make Adoption as Easy as Possible
Another important worry that pregnant women have leads them to ask, "How hard is it to find adoptive parents for my baby, make an adoption plan and complete the legal process?"
Through Adoption Answers, it's easy. It's imperative that you work with an adoption professional like Adoption Answers to ensure that your adoption process is as easy as it possibly can be. With our help, you'll have access to a full range of services, including:
Emotional support available 24/7.

Medical care throughout your pregnancy, which is free for you.

Free legal representation from an adoption attorney, so you have guidance throughout the legal process.

Counseling services at no cost, which are available before, during and after your adoption.

Post-adoption contact mediation, to help you keep in touch with your child throughout the years.

Assistance in finding, screening and getting to know the adoptive parents of your choosing.
We know that it's never easy to choose adoption for your baby, nor to choose the adoptive family. But we'll be here at every step of the way to support and guide you through it all. We strive to make this process as easy as possible, in the midst of a difficult time.
FAQ About Starting the Adoption Process
At this point, it's natural to have a lot of questions about placing your baby for adoption in Texas. Here are some frequently asked questions that women facing an unplanned pregnancy have asked us, and their answers:
"Is giving your child up for adoption hard?"
Yes. Emotionally, it is hard to place a baby for adoption. But we'll be here to support you through it.
"How complicated is giving up a child for adoption?"
In most cases, the process is not complicated. Furthermore, your social worker at Adoption Answers will do everything in her power to make this experience as low-stress, simple and straightforward as possible.
"Is it free to place a child for adoption?"
Always. It is always 100% free to place a child for adoption, and you may be eligible for financial support throughout the process in the form of birth parent expenses. Learn more about the costs of placing a baby for adoption here.
"What kind of support do I receive?"
Through Adoption Answers, you will have access to all the emotional, practical and financial support you need to complete this journey, from start to finish and beyond.
"How do I begin the process of placing my baby for adoption?
Here's how:
Contact Us Now for Free Information
Need to learn more about the Texas adoption process? Have questions about coping with the emotions of placing a baby for adoption? Contact Adoption Answers now at 1-800-659-7541 to receive free, confidential information, or to begin the process of placing your child for adoption in Texas.